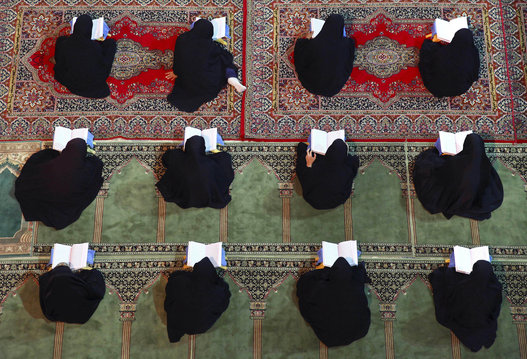 A collection of top news stories you need to know from July 11 – July 17, 2014
Church of England approves women bishops in historic vote • Three charged over Palestinian Mohammad Abu Khdair murder • Faithful flock to see statue of Santo Toribio, the immigrants' saint • Beautiful Ramadan Photos From Around The World • These Are The Most Breathtaking Church Ceilings In The World– And We Almost Missed Them
Church of England approves women bishops in historic vote
Following a 20-year-old debate, the General Synod of the Church of England voted on July 14 to permit women bishops. The first female bishop could be selected by the end of 2014 and at least three more should be appointed sometime in 2015.
Final approval was given to permit women bishops in a vote of 351-72. Ten member of the General Synod abstained from voting on the legislation. Archbisop of York John Sentamu called for the voting results to be met with silence, however, clapping and cheers followed the affirmative vote.
Three charged over Palestinian Mohammad Abu Khdair murder
The Israeli justice ministry announced that two youths and a man were charged by Israeli prosecutors with the brutal murder of Mohammad Abu Khdair, a Palestinian teen. On July 2, 16-year-old Mohammad was attacked and burned alive, apparently as a revenge attack following the kidnapping and murder of three Israeli teenagers, Naftali Frenkel, Gilad Shaar and Eyal Yifrach.
Faithful flock to see statue of Santo Toribio, the immigrants' saint
As tens of thousands of Central American children have crossed the United States border, faithful Catholics in Southern California have responded by flying a wooden statue of Santo Toribio from the Mexican state of Jalisco. Followers look to Santo Toribio for protection while crossing borders and during immigration proceedings and related conflict. Some refer to him as a guardian, others a smuggler. The powerful yet fragile wooden statue will tour churches located in three Los Angeles counties and the stories told of his guidance are miraculous.
Born in Mexico, Romo Gonzalez was a priest who lived simply and was killed in 1928 during the Cristero War. It is said that he appears to individuals crossing borders, often during times of great duress. Santo Toribio is often depicted with a cowboy hat a boots. Many immigrants credit their safety to him and describe how he appeared- along deserted roadways, in shelters built by migrants and in the midst of perilous desert conditions.
Beautiful Ramadan Photos From Around The World
In celebration of the holy month of Ramadan, the Huffington Post has created an extensive slideshow that follows Muslims across the world as they observe the holiday.
These are the most breathtaking church ceilings in the world– And we almost missed them
From Paris, France to Guadalajara, Mexico, these photographs compiled by Huffington Post are stunning.
https://tanenbaum.org/wp-content/uploads/2018/11/TanenbaumLogos_CMYK-Long-Red-Copy-300x39.png
0
0
igor solaja
https://tanenbaum.org/wp-content/uploads/2018/11/TanenbaumLogos_CMYK-Long-Red-Copy-300x39.png
igor solaja
2014-07-21 12:23:27
2014-07-22 13:07:23
Top news stories across the world